List of Agencies, Utilities, and Organizations
Who to contact first.

St. Charles County
web site
Many issues related to St. Charles Hills are covered by county ordinances. Much of the information you need is here.


Documentation

Subdivision Indentures (By-Laws) in PDF format. (Conditions, Restrictions, Provisions, Trusteeship)


Draft of New Indentures


Understanding the Governance of St. Charles Hills Subdivision


Maps and Photos

Medium Street Map
Large Street Map
Medium Street/Lots Map
Very Large Street/Lots Map
Topographic Map
Medium Aerial Photo
Large Aerial Photo
Parks and Boundries Photo
School Location Photo


Message Board






Disclaimer: All information on this web site is believed to be accurate and true. If you have any questions about the governance information on this web site, or if you have any questions about the governance of St. Charles Hills subdivision, please contact the subdivision Trustees on the trustees contact page.



This web site is a consolidated source of information about St. Charles Hills subdivision, and is provided at absolutely no cost to the residents of the subdivision, as a courtesy of the webmaster, in appreciation for the work done by the subdivision Trustees. The content of this web site is at the sole discretion of the webmaster.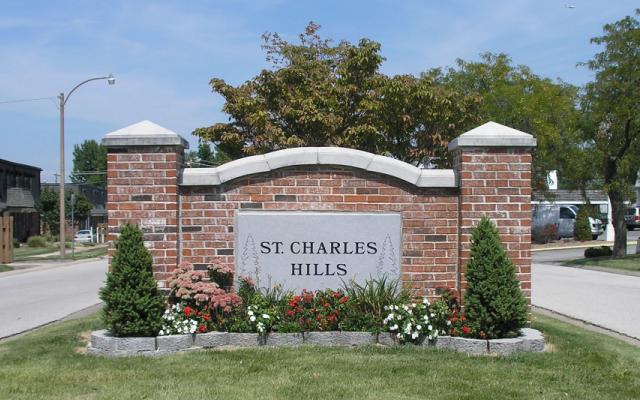 St. Charles Hills subdivision was founded in 1964 by the Charles F. Vatterott Land and Development Company, and for over four decades has been one of St. Charles County's premier subdivisions. Its 18 miles of streets contain 1158 residences, and provide homes for over 6,500 residents. St. Charles Hills combines affordable housing and a convenient location with numerous parks and common areas, and its close proximity to elementary, middle, and high schools has provided its residents with a quality of life that many common subdivisions lack.



Please vote Tuesday April 7th, 2015 for Proposition S, a No-Tax-Rate Increase Bond Issue to maintain fire and emergency rescue services in our District. For more information visit www.centralcountyfire.org or call (636) 970-9700.


| | |
| --- | --- |
| Agendas, Minutes, and notes from Residents / Trustees meetings. | Newsletters and Announcements from the Trustees to the Residents. |
| | |
| --- | --- |
| The company that our subdivision hires to take care of assessment billing. They have an excellent "Frequently Asked Questions" (FAQ) web page that can answer many of your questions. | Why does the subdivision need this money? What it covers and what it does not cover. |
| Information about how you can include your garage/yard sale. | The Neighborhood Watch program and Committee, other Crime Prevention information. |
| Yard of the Month, created to recognize exceptional looking yard and landscaping. | Are you a Good Neighbor? Typical violations explained by the Neighborhood Preservation Division. |
| Information about our parks and common areas, and the Parks Committee. | How much do you know about your subdivision? |
| What to do about all of those pesky leaves once they have fallen. | What you can do to help keep our streetlights in good working order. |
| A storm that St. Charles Hills won't forget for a long time, featuring a three day power outage. | Trim those trees! Don't let your trees be responsible for a power outage. |
| Pictures of Christmas lights that have decorated houses in the subdivision. If you have some of your house you can email them to the webmaster. Pictures: 1 2 3 4 5 6 7 8 9 10 11 12 13 14 | Halloween is not just for the kids in our subdivision. Pictures from just one of several past extravaganzas. Picture 1 Picture 2 |
| "The mission of the American Humane Association is to prevent cruelty, abuse, neglect, and exploitation of children and animals and to assure that their interests and well-being are fully, effectively, and humanely guaranteed by an aware and caring society." | Information about the Community Emergency Response Team (CERT) program which educates people about disaster preparedness. |