Disclaimer: The information on this web site is believed to be accurate and true. If you have questions about the information here, or if you have questions about the governance of St. Charles Hills subdivision, contact the Trustees.


This web site has been a source of information about the St. Charles Hills subdivision since October 2006.
It is maintained by the webmaster as a courtesy to the Residents and in appreciation for the work done by the Subdivision Trustees.
Saint Charles Hills - Subdivision Meeting
Tuesday December 05, 2023 - 6:00 PM

Jefferson Intermediate School, 2660 Zumbehl Road, Saint Charles, MO

You are invited to attend a Meeting of the Saint Charles Hills Subdivision, taking place at the Jefferson School Cafeteria. This is your chance, as Homeowners, to bring your questions and concerns to the Trustees, and for them to present an update on the subdivision.

You should have received by mail a copy of the latest Subdivision Letter along with a Saint Charles Hills Amendment Ballot sheet and Ballot Card. Please bring those with you to the meeting.

If you are unable to attend, you may follow the instructions on the paperwork and mail the Ballot Card to PO Box 1296. Ballots will not be accepted by mail after December 5th.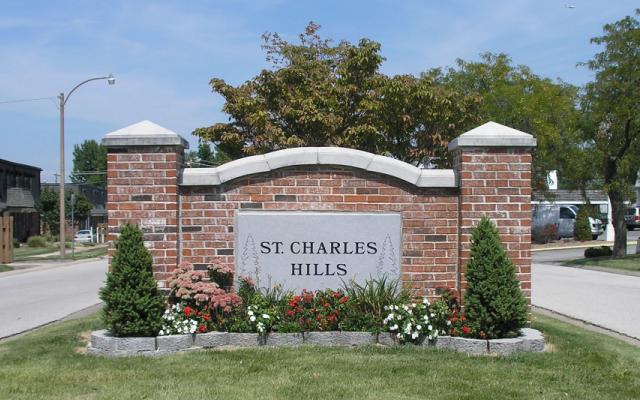 St. Charles Hills subdivision was founded in 1964 by the Charles F. Vatterott Land and Development Company, and for over five decades has been one of St. Charles County's premier subdivisions. Its 18 miles of streets contain 1158 residences, and provide homes for over 6,500 residents. St. Charles Hills combines affordable housing and a convenient location with numerous parks and common areas, and its close proximity to elementary, middle, and high schools has provided its residents with a quality of life that many common subdivisions lack.

| | |
| --- | --- |
| About the Trustees, their work, and responsibilities. | Agendas and Reports from Residents/Trustees meetings. |

Newsletters and announcements from the Trustees.


Why does the subdivision need this money? What it covers and what it does not cover.

We hire Sterling Management Solutions to handle our subdivision assessment billing.

Our previous company City and Village Tax Office has an excellent "Frequently Asked Questions" (FAQ) that can answer many of your questions.

The Neighborhood Watch program and other crime prevention information.


Information about how you can include your garage/yard sale.

Are you a Good Neighbor? Typical violations explained by the Neighborhood Preservation Division.

Information about our parks and common areas.

How much do you know about your subdivision?

What to do about those pesky leaves and gumballs once they have fallen.

What you can do to help keep our streetlights in good working order.

How to make sure your pet is a good neighbor and what to do if there are problems with animals.

Trim those trees! Don't let your trees be responsible for a power outage. The 2007 ice storm.

The subdivision held its annual Easter Egg Hunt at Fleet Park on April 8th, 2017. The trustees stuffed and placed about 1,000 eggs around the park and watched as the families spread out and absconded with their treasures. Pictures: 1 2 3 4

Pictures of Christmas lights that have decorated houses in the subdivision. If you have some of your house you can email them to the webmaster.
Pictures: 1 2 3 4 5 6 7 8 9 10 11 12 13 14

Halloween is not just for the kids in our subdivision. Pictures from just one of several past years. Pictures: 1 2

Yard of the Month, created to recognize exceptional looking yard and landscaping.


"The mission of the American Humane Association is to prevent cruelty, abuse, neglect, and exploitation of children and animals and to assure that their interests and well-being are fully, effectively, and humanely guaranteed by an aware and caring society."

Information about the Community Emergency Response Team (CERT) program which educates people about disaster preparedness.